Reviews
Best fish & chips I've had in months! Glad they're open fantastic service and pleasant staff.
---
Great fish, exquisite tartare sauce. Excellent and friendly service. Thanks very much, I'll be back!
---
Best fish and chips in Etobicoke. Great portions, delicious and excellent customer service. You will not be disappointed! Well worth the drive!!
---
Order the halibut and Greek Salad, some of the best in Toronto!
---
We have eaten here for many years. The food is consistently delicious. The owners are a delightful and conscientious couple. This restaurant has to be the best Fish & Chip restaurant in Toronto. If you haven't been to John's F & C you are missing a delightful experience. It is even better than any F & Cs in London England.
---
I just enjoyed THE TASTIEST battered halibut I have eaten in years. Not greasy, light batter and the fish was perfectly cooked: moist and flaky--you could tell it was fresh. Fries were good and the homemade 'slaw was delicious--nice and vinegary. Would go back a second night in a row easily.
---
Tried out here with my boyfriend for the first time today since we moved in the neighbourhood few months ago. Just wanna say that we did have the best customer service ever from the owner and her family. We were also amazed by how delicious the foods were. Eventhough the menu is pretty basic, just like other fish n chips restaurants, the taste is insane and extremely different, really fresh and yummy especially artichoke and sea smelt (appertizers), salads with homemade dressing was amazing, dessert was homemade baklava so well-made and moist. Extremely recommend this restaurant in west end Etobicoke!!!
---
Awesome place!! Best fish and chips in the west end!! My go to when craving fish and chips! Batter is always nice and crispy unlike so many other fish and chips where it's very greasy and soggy. Love this place! …not to mention the owners are so friendly and actually care about their customers and products.
---
Tried this for the first time a couple weeks ago, close to home, good reviews. Good service. Had the saganaki appitizer and grilled fish with Greek salad for main and it was very good. My friend had the fish and chips and it was a generous portion and looked great, will definitely dine there again.
---
The best fish and chips in the GTA!!! Waitress Maria works Fridays only, is super friendly, and very attentive. Food and service is always consistently good! Totally worth the drive.
---
Great food, service is excellent, very reasonable prices, lots of parking
---
We've been going here for 20+ years and the food has always been consistently great! Definitely recommend!
---
Amazing halibut and chips. Small little cozy spot with friendly staff.
---
Family service, great salad,
June update, breaded haddock was super fresh, flakey, and friggin awesome. Thanks team John's!!! BTW, our server Julie was very courteous and very conciencious to all of our "special needs"!! A1
---
I went here about a week ago and it has very good service and the people there are really nice, and the fish was just amazing i would really recommend going there, it also has a very nice sea theme on the inside. in my opinion one of if not best sea food restaurant ever
---
The best fish n chips I had in a long time
---
Absolutely amazing fish. Very fresh and worth every dime. I'd say it's the best fish and chips spot in town. It is a must visit.
---
I work in the area and love the fish and chips here, definitely the best in the area!
---
Awesome! The people here are so very nice. It's true about all the reviews about the calamari. The calamari is amazing!
---
Just got back from a delicious calamari and Greek salad with seasoned rice. It was wonderful! The calamari were crisp and hot and tender. The salad dressing is excellent. it is homemade as is the baklava which we had for dessert.
We keep going back. Service is excellent. One always feels welcomed
---
BEST FISH AND CHIPS in TORONTO !!! Great food, service and reasonable prices. AND I LOVE THE DESSERTS!
---
OMG delicious. Excellent fish and chips, great service, very reasonably priced. Best in the GTA. We'll be back for shore as they say in Nova Scotia.
---
My kids' school used John's Fish and Chips for a hot lunch at school and we received many compliments on the lunch. Some students even wanted more. Will definitely use them again. Many thanks to all at John's Fish and Chips!
---
Great service, good size portions, good food. What's not to like?
---
As a Gluten free and health conscious eater this was not my ideal choice. I was delighted with the grilled fish option, the rice was well seasoned and the service is exceptional.
You can expect to seat yourself and be tended to in fair time, as the waiting staff sometimes helps in the kitchen. The food come up quickly and the atmosphere is warm & inviting. This is a gem in Islington Village.
---
I live in the area and this is my go-to fish and chips place. I've been here a few times now, and the service has always been exceptionally friendly. The past time that I was here for dinner we had a great conversation with the waitress, she is the daughter of the owner who runs the place along with other members of the family. This place has several awards on the wall and deservedly so. It makes me happy that the fish is battered lightly and NOT greasy at all. I seriously hate over battered and greasy fish. The people who I dined with had the grilled fish which I usually would not order at a fish n chips place but it looked excellent and they loved it so I'm going to try it next time. The calamari was also delicious and I really enjoyed how the coleslaw was not drenched in mayo like you usually find at fish n chip places, but was much lighter and marinated in what seems like vinegar. I really enjoyed it. They have several different options for sides like rice and salad so you can really get a lighter meal here! Our waitress suggested us the baklava that is made in house by her husband for dessert, which was a non traditional take- instead of being made with a phyllo pastry it was almost like thin layers of sponge cake instead! We loved it! Will definitely be coming back in the future to support this locally owned, family run business.
---
Great service and delectable halibut fish and chips. I have been here several times and I am consistently impressed with how fresh and flaky the fish is inside a crispy batter. But above all the service is warm and truly above par. The server is super friendly and accomodating. If you are hankering for fish and chips just go straight here and don't stop any other place. where service is foul as if their fish was sent from heaven.
---
This little restaurant is not what I expected when I first happened upon it. It is run by a really nice little group of people and the patrons there are like family. It's a nice little vibe, worth checking out if you are in the market for some lighter fare.
The meals are good and the prices are reasonable. As I mentioned in my quick tip, if you are dieting you really need to try the grilled Orange Roughy and salad. Cheers!
---
John's is absolute best fish and chips I've ever had by far. Price is very reasonable, great atmosphere and the lemon meringue pie was amazing. Usually eat there twice a month.
---
Just got back from a delicious Calamari and Greek salad with seasoned rice. It was wonderful! The calamaris were crisp and hot and tender. The salad dressing is excellent; it is homemade as is the baklava which we had for dessert. We keep going back. Service is excellent. One always feels welcomed.
---
Went to John's Fish and Chips last week with a couple of my co-workers. It was a great and pleasant surprise. The food was amazing, the servivce was great and the price was fair.
I will be coming back. I still can't believe my co-worker Sebastian refuses to go, he is surely missing out.
---
First visit at John Fish n Chips,
Best fish and chip place in the toronto area,
My co-worker refused to go their (sebastian) but i took the intiative and took 2 other co workers and ordered the lunch special, the portions are adequate and was pleasant of the service and quality of the food served, i would definetly recommend and visit again!!
---
Best fish and chips i have had in a long time. Will go back for sure!
---
Excellent battered and fried fish. Not greasy at all, like at some fish & chip shops.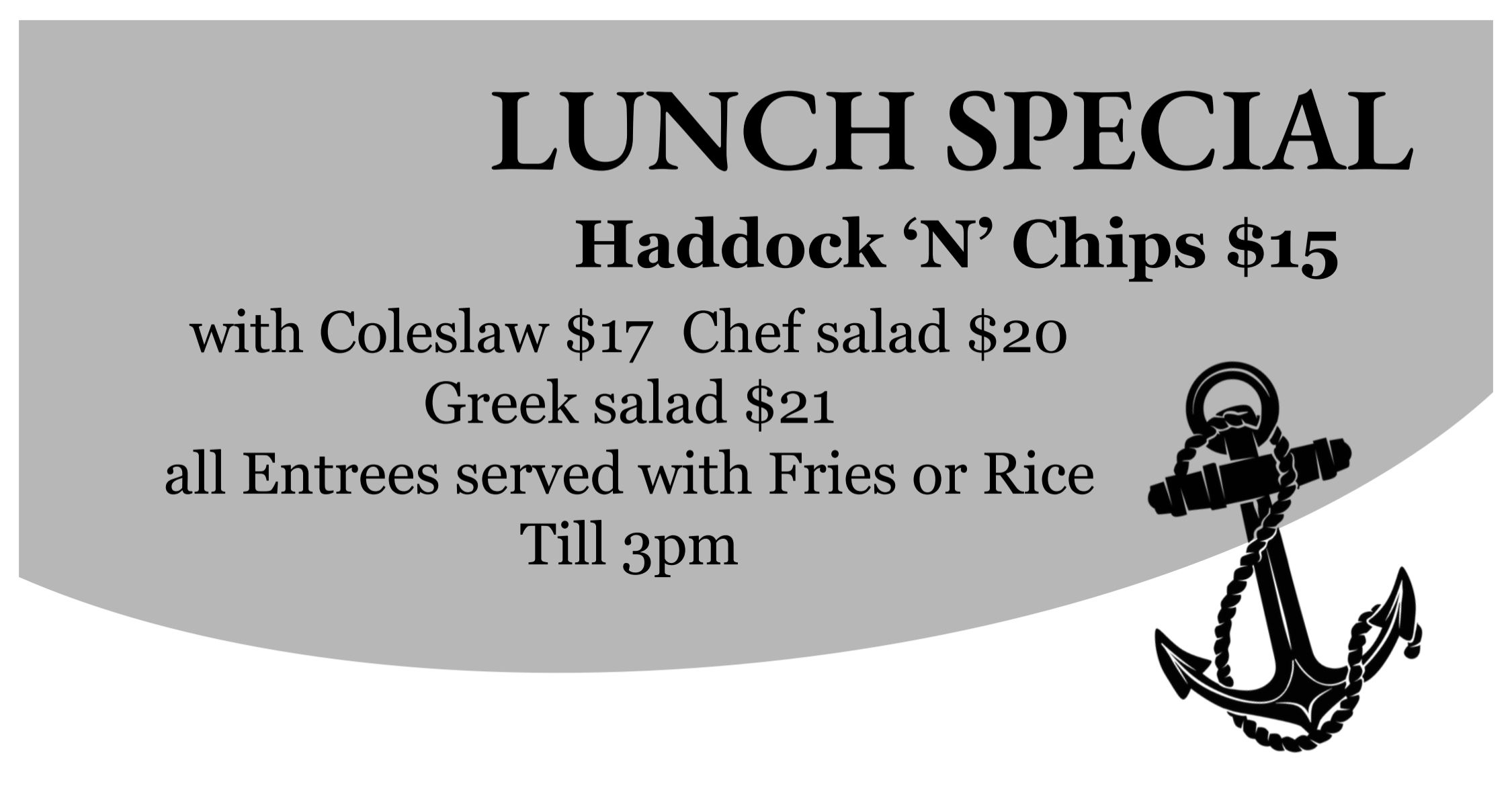 Order Now
For Pickup or Delivery